NOSORH invites its partners and the partners of any of the fifty State Offices of Rural Health to join our advocacy efforts.
The 2023 advocacy priorities of NOSORH are to:
increase appropriation of State Offices of Rural Health to $18 million
reauthorize the State Flex program to ensure vital statistics to an array of rural health stakeholders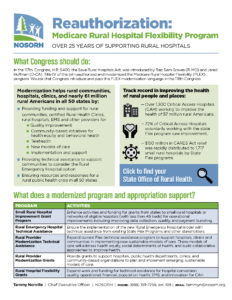 State Flex Program Reauthorization
In the 117th Congress, H.R. 6400, the Save Rural Hospitals Act, was introduced by Rep Sam Graves (R-MO) and Jared Huffman (D-CA). Title IV of this bill reauthorized and modernized the Medicare Rural Hospital Flexibility (Flex) program. We ask that Congress introduce and pass this Flex modernization language in the 118th Congress.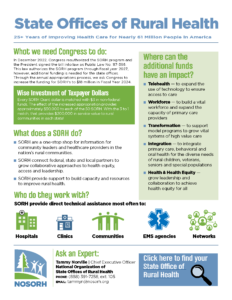 State Offices of Rural Health Appropriations Request
In December 2022, Congress reauthorized the SORH program and the President signed the bill into law as Public Law No: 117-356. This law authorizes the SORH program through fiscal year 2027, however, additional funding is needed for the state offices. Through the annual appropriations process, we ask Congress to increase the funding for SORH's to $18 million in Fiscal Year 2024.
Proposed Changes to the Definition of Metropolitan Statistical Areas