Resources
Understanding the data points that characterize rural communities ensures State Offices of Rural Health have a solid base for providing technical assistance and targeting resources to areas of highest need.
The
Using Data to Define Rural Populations
manual assists SORH and other rural health stakeholders in identifying the steps to developing an initial dataset for defining rural populations in their state.
The Manual outlines the following steps:
1. Defining rural for your state
2. Identifying your questions
3. Compiling your dataset
4. Answering your questions
Links to additional resources are included to further refine skills.
---
NOSORH Rural Health Data Institute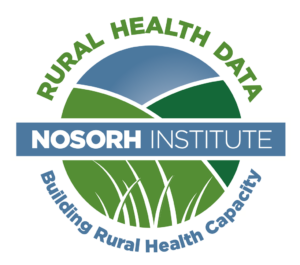 The Rural Health Data Institute (RHDI) is a set of eight 90-minute web-based sessions designed to establish a minimum data-use skill set for those working with rural health data. The sessions are designed for those with little or no knowledge of the data use process.
RHDI starts by throwing the term "research" out the window and defining terms in a way that everybody can understand. It moves through the process of collecting your data, cleaning it up, and analyzing it in a way that makes sense. Later sessions help participants work through the steps of crafting their messaging and displaying it in a visualized way so other people can understand it too. By doing very small "homework" assignments aligned to the data use process, participants will end the RHDI with a one-page infographic fact sheet to do whatever they want with it: hang on the fridge in the break room or, better yet, disseminate it to your partners!
For more information on the Rural Health Data Institute, please contact Chris Salyers.