National Rural Health Day
2021 Successes and Impact
In 2021, the National Rural Health Day (NRHD) theme was the Power of Rural: Resiliency, Resolve, Relationships, & Readiness. NRHD showcases the efforts of rural healthcare providers, State Offices of Rural Health, and other rural stakeholders to address the unique healthcare challenges that rural citizens face today and in the future. To learn more about this year's successes and impact, click the "view document" button below: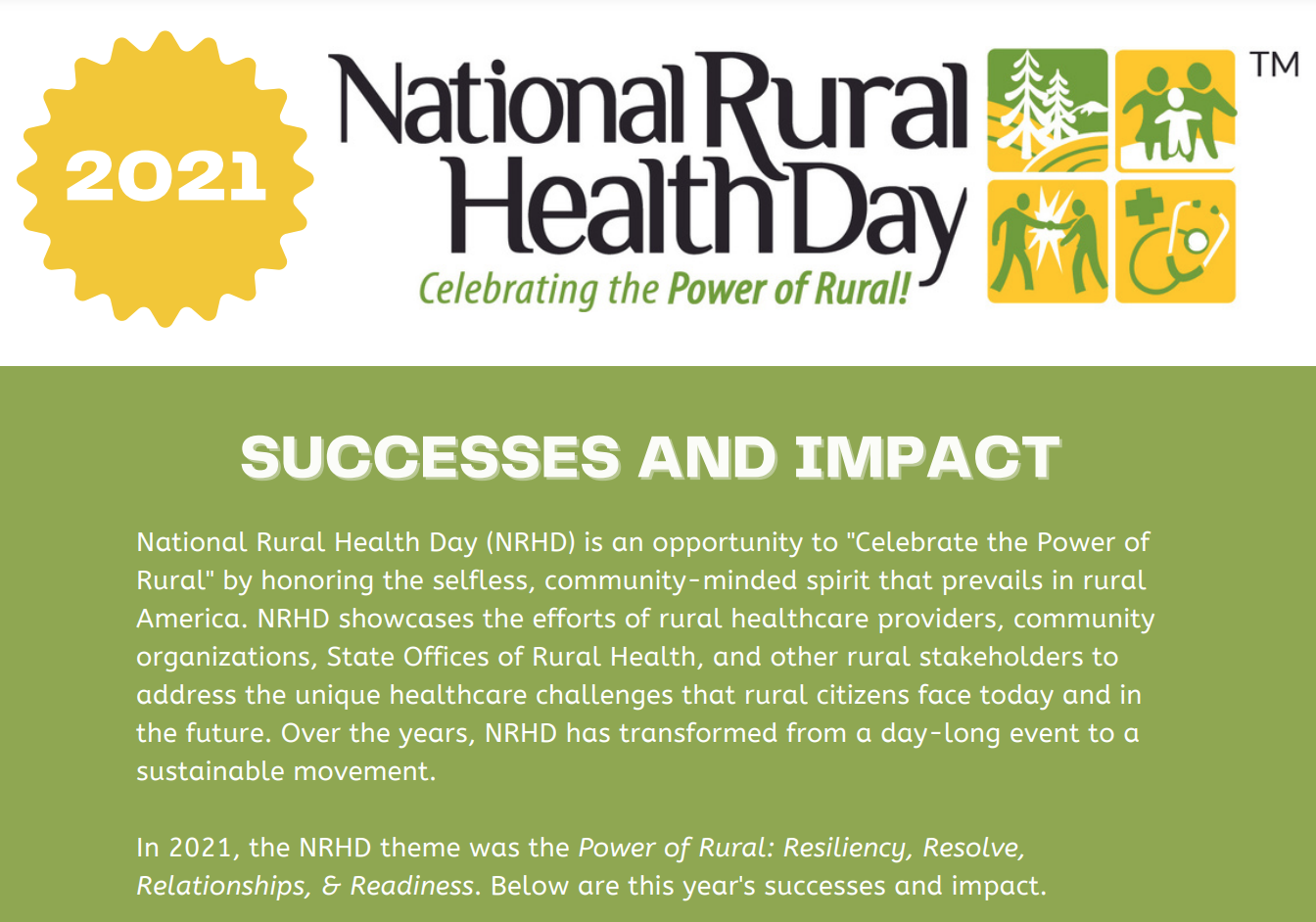 Webinar:
Telling the Rural Star Stories
This National Rural Health Day webinar introduces you to the real power of rural with moving stories and tributes to 50 Community Stars from 50 States!
This interactive celebration features representatives from the State Offices of Rural Health. Together, they introduce us to the real power of rural, sharing stories of Resiliency, Relationships, Readiness, and Resolve, lessons learned, and resources that make a big difference in the health of small communities.
Rural communities are wonderful places to live and work, which is why an estimated 57 million people – nearly one in five Americans – call them home.
These small towns, farming communities, and frontier areas are places where neighbors know each other, listen to each other, respect each other, and work together to benefit the greater good.
They are also some of the best places to start a business and test your "entrepreneurial spirit." These communities are an economic engine that provide the rest of the country with a wealth of services and commodities.
The Community Stars book is a collection of inspiring stories featuring rural health professionals and organizations from all 50 states, each of them nominated for their outstanding rural health work.
This video previews some of the 2021 Community Stars who are recipients of various Health Resources and Services Administration (HRSA) grants.
Our annual Community Star recognition program is one of the most popular features of National Rural Health Day. Each person, coalition, and organization nominated to be their state's Community Star represents the faces and grassroots initiatives working to address the social determinants of health and improve the lives of those who call rural their home. These are extraordinary people making rural life better every single day.
Congratulations to the 2021 Community Stars!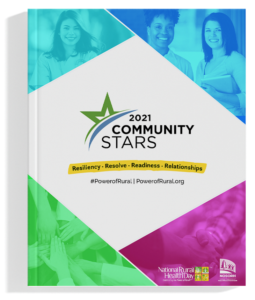 2021 NRHD Presidential Proclamation
"NOW, THERFORE, I, JOSEPH R. BIDEN JR., President of the United States of America, by virtue of the authority vested in me by the Constitution and the laws of the United States, do hereby proclaim November 18, 2021, as National Rural Health Day.  I call upon the people of the United States to reaffirm our dedication to the health and well-being of rural America.
IN WITNESS WHEREOF, I have hereunto set my hand this seventeenth day of November, in the year of our Lord two thousand twenty-one, and of the Independence of the United States of America the two hundred and forty-sixth."
It's not just a day, it's a movement!