The National Organization of State Offices of Rural Health (NOSORH) was established in 1995 to assist State Offices of Rural Health (SORH) in their efforts to improve access to, and the quality of, health care for nearly 61 million rural Americans.
NOSORH enhances the capacity of SORH to do this by supporting the development of state and community rural health leaders; creating and facilitating state, regional and national partnerships that foster information sharing and spur rural health-related programs/activities; and enhancing access to quality healthcare services in rural communities.
Mission Statement
The NOSORH mission is to promote the capacity of State Offices of Rural Health and their stakeholders to improve health in rural America through leadership development, advocacy, education and partnerships.
Vision Statement
NOSORH grows connections, tools, and education to support and build vital healthy rural communities.
All 50 states have a State Office of Rural Health (SORH). These offices vary in size, scope, organization, and services and resources they provide. Most are organized within the state health departments, but some are located in universities or not-for-profit organizations.
Purpose
The general purpose of each SORH is to help their individual rural communities build healthcare delivery systems. While funding levels and sources also vary, every state receives a portion of their funding from the Federal Office of Rural Health Policy through the SORH Grant program, begun in 1991. With this grant, a SORH is expected to:
Collect and disseminate information
Coordinate rural healthcare activities in states in order to avoid duplication
Provide technical assistance to public and non-profit private entities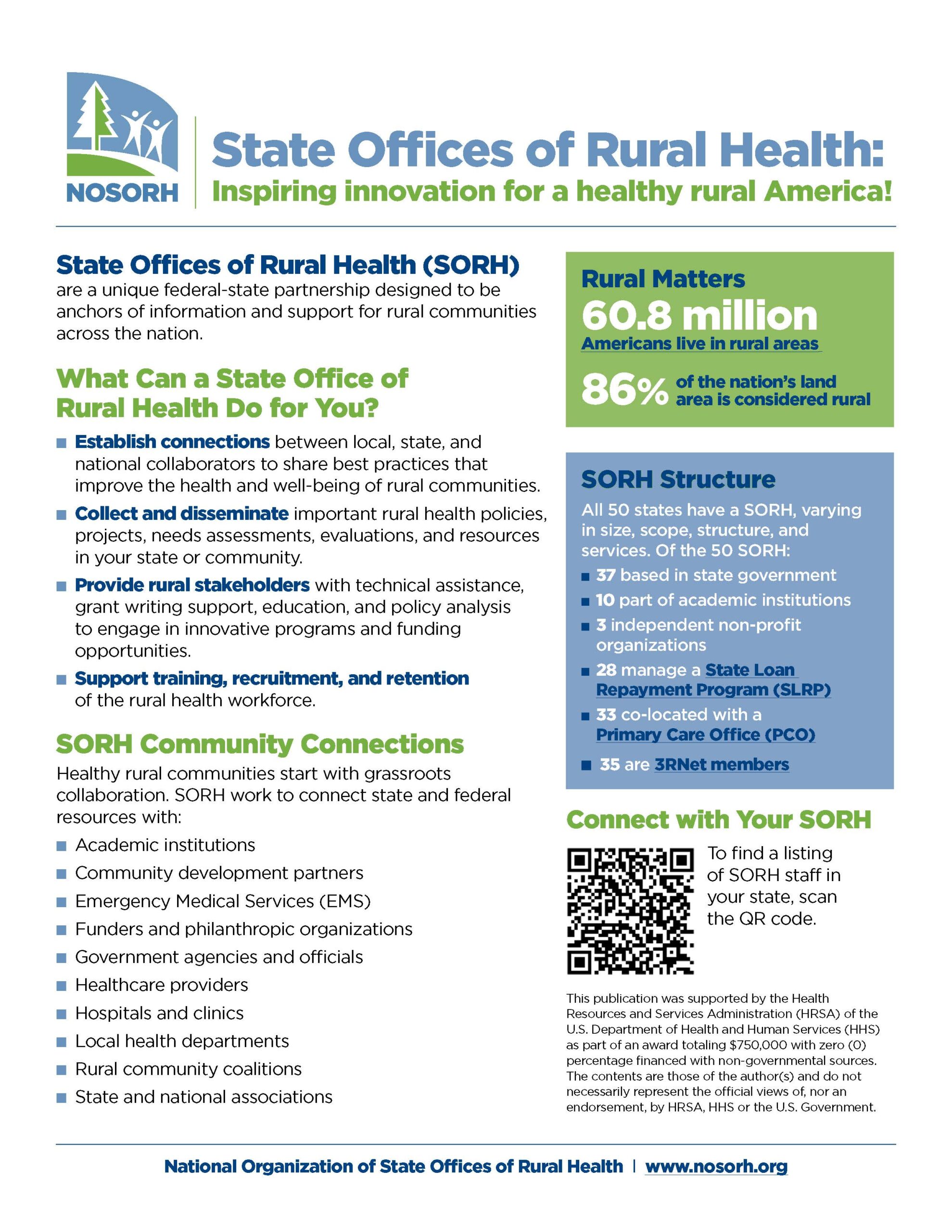 State Offices of Rural Health: Inspiring innovation for a healthy rural America!
State Offices of Rural Health (SORH) are a unique federal-state partnership designed to be anchors of information and support for rural communities across the nation.