Issue Brief- Defining Rural Population Health and Health Equity – July 2020
In recent years, the terms "population health" and "health equity" have often been used interchangeably by some rural stakeholders.This issue brief aims to examine the differences between the two terms, and offers successful examples of rural population health and health equity activities by State Offices of Rural Health (SORH) and their partners. The brief also offers suggestions on how rural health stakeholders can get started in population health and health equity efforts at the state and local levels.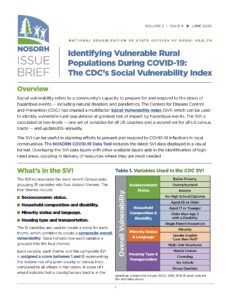 Issue Brief – Identifying Vulnerable Rural Populations During COVID-19: The CDC's Social Vulnerability Index – June 2020
This Issue Brief was developed as a means of using data to target resources where they are needed most during COVID-19. The Social Vulnerability Index (SVI) offers an opportunity to quickly identify populations of rural residents that could most benefit from currently available resources – allowing you to address current need while also focusing on prevention. The issue brief offers an overview of the SVI and how it's calculated, identifies indicators that highlight populations at high risk for spread of COVID-19 and indicators of those at high risk of infection.
Fact Sheet: Resources for Rural CHNAs and CHIPs – April 2020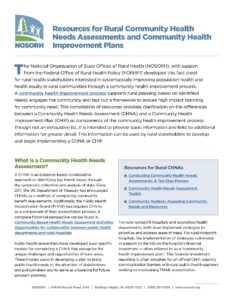 This fact sheet was developed for rural health stakeholders interested in systematically improving population health and health equity in rural communities through a community health improvement process. This compilation of resources provides clarification on the differences between a Community Health Needs Assessment (CHNA) and a Community Health Improvement Plan (CHIP) as components of the community health improvement process. Though not an exhaustive list, it is intended to provide basic information and links to additional information for greater detail. This information can be used by rural stakeholders to develop and begin implementing a CHNA or CHIP.
Best Practice Guide for Engagement with SORH and CDC-funded State Programs – July 2019
The Best Practice Guide for Engagement with State Offices of Rural Health (SORH) and CDC-funded State Programs is designed to assist SORH and state CDC-funded initiatives to identify opportunities to collaborate across programs at the state level. This fact sheet includes three short success stories of SORH engagement with CDC partners in their state and documents how to integrate these programs. Success stories and resources were identified during a SORH listening session on social determinants of health and follow up interviews and a joint SORH, Federal Office of Rural Health Policy, and CDC meeting held during the 2019 National Rural Health Association annual meeting.
Social Determinants of Health – A Quick Reference Guide for SORH and STHO – Sept 2017
 This guide has been developed through a partnership between the Association of State and Territorial Health Officials (ASTHO) and NOSORH to provide a quick, general reference and introduction to a range of national resource organizations and some examples of state work to address SDOH.