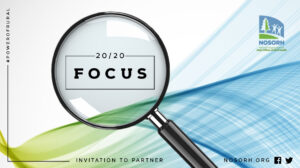 You're invited to join our "2020 Focus" by collaborating with us and investing in NOSORH's mission and our National Rural Health Day efforts! We want to magnify your impact and zoom in on the great work you're doing to improve and advance rural health.
When you make a commitment to being a NOSORH partner, you're joining the "Power of Rural" movement that is helping to support and honor the work of thousands on the front lines and those working to address the unique health challenges facing rural America.
Please explore the "2020 Partnership Invitation" below and let us know which partnership level is the best fit for your mission. No matter what level you select, know that your contributions will make a difference!