NOSORH Rural Health Grant Writing Institute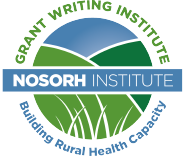 The NOSORH Rural Health Grant Writing Institute was developed to meet the unique needs of rural grant writers — like you! Each session walks participants through one of the basic building blocks or strategies for successful program funding.
Participants in the course will benefit from:
A certificate of completion after completing 6 out of 9 learning sessions and all quizzes and evaluations.
Tools, templates, and tips to help apply what they learn to their everyday work and build a personal grant writing portfolio.
Opportunity for one-on-one support, peer review, and discussion with other new and experienced grant writers.
Faculty
Teryl Eisinger, NOSORH's contractor, has more than 25 years' experience writing grant applications to federal, state and foundation funders on projects for training programs, small business development and outreach programs. Her practical approach will include reality-based tips and templates for you to use in your own pursuit of funding.
Curriculum
Weekly virtual learning sessions will take place on Mondays from 3:00-4:30 pm ET. The Institute runs from February 27-May 8, 2023. View the flyer for the full curriculum.
Technology and system requirements
All learning sessions will be conducted using an online Learning Management System (LMS). Participants will use the LMS to access handouts, presentation materials, take quizzes, access live and recorded sessions, and communicate with the course instructor. Recordings of the presentations, including narration, will be available for playback within 24 hours of the event through the LMS system. Participants will be sent an email invitation by February 27th.
Payment
Payment of all fees are expected to be paid by March 2, 2023. Payment via credit card is accepted. Contact Kayren Cross at kayrenc@nosorh.org or at (888) 391-7258, ext. 108 to make arrangements for payment if you can't pay by the 2nd or request specialized billing.
Refund policy
To be considered for a refund, requests must be submitted in writing to Kayren Cross at kayrenc@nosorh.org.
Deadlines to request a refund:
March 7th — full refund
March 20th — 70% refund ($525)
March 27th — 40% refund ($300)
After March 27th — no refund