By Beth Blevins
Rural migrants and other immigrant Latinos in California are becoming better informed on issues that affect their health thanks to a partnership between the California State Office of Rural Health (CalSORH) and the California Department of Public Health's Office of Binational Border Health (OBBH).
Since the partnership offered its first workshop in March 2015, community health workers (CHWs), also known as promotores, have been trained on emerging health issues that impact migrant, seasonal, and agricultural workers.
"Each year, we look at emerging health issues, listen to what the CHWs/promotores are hearing in their communities, and tailor our training with up-to-the-moment information," said Jalaunda Granville*, former Rural Health Project Coordinator at CalSORH. "The goals of the training vary from year to year."
The project uses a "train-the-trainer model"—trainings are held for the CHWs/promotores who then spread the information to the community, said Corinne Chavez, CalSORH Health Program Manager. "The goal of all of these trainings is to provide education and tools for participants to share in their communities. It's an outreach and education model that offers relevant and reliable health education and resources to California's rural population."  Chavez added, "OBBH has utilized this model for over a decade."
Past trainings have been on pesticide illness and safety, Zika awareness and prevention, and mental health and opioid use disorder (OUD). Trainings take place in four regions of the state, with participants drawn from rural parts of those areas, Granville said. More than 300 CHWs/promotores have been trained so far, Chavez said.
"The CHWs/promotores are carefully selected," Chavez said. "And OBBH's strong relationships with community-based organizations and community leaders aid in their selection." A workgroup, composed of OBBH staff, medical professionals, and community leaders and members, develop culturally appropriate curriculum and implement trainings, she said.
After each workshop, participants are given educational manuals and materials, copies of presentations, resource links, and/or contact information for the local resources involved in the workshops, Chavez said.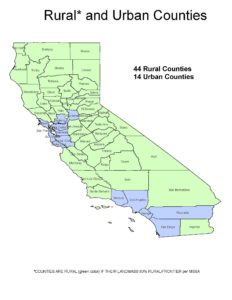 The CalSORH/OBBH partnership also utilizes additional partnerships with other state and federal agencies. For its workshop on pesticides, OBBH collaborated with CalSORH, the U.S. Environmental Protection Agency, and the California Department of Pesticide Regulation, Chavez said. OBBH and Vision y Compromiso, a leading promotores organization, facilitated its four Zika Awareness workshops in targeted regions of California in 2017, she said.
The partnership provided training and outreach mental health on the dangers of OUD in 2018. It targeted rural areas of the state based on the number of opioid-related deaths found on the California Opioid Overdose Surveillance Dashboard, Chavez said. "California rural communities have the highest rates of OUD in the State," she said.  "OBBH wanted to provide training in a culturally and linguistically appropriate setting because they believe CHWs are uniquely positioned for early intervention and to assist in increasing access to services."
This year, the partnership is offering training on increasing awareness of antibiotic overuse and misuse in rural communities, with the goal of training 120 promotores/CHWs by 2020. That topic was chosen, Chavez said, "because of the current public health threat it poses throughout the world—we want to provide these trainings as a tool to expand access to healthy practices and services."  If each CHW who is trained on this topic delivers a short presentation to at least 20 community members, she said, the hope is that it will eventually reach at least 500 people in the state.
CalSORH currently is in a five-year intragovernmental agency agreement with OBBH for their services through CalSORH funds, Granville said, "but they also provide services above and beyond their agreement amount." Funding for the partnership comes from CalSORH's Federal Office of Rural Healthy Policy SORH grant.
The partnership has allowed CalSORH to reach communities and populations they might not otherwise have, Chavez concluded.
"Early on we recognized that partnering with OBBH was the best way to deliver information and services," she said. "Working with OBBH was a natural choice in terms of trying to address our rural migrants and Latino populations that may or may not be exposed to this information. We identified their expertise, and knew that they have access to communities and resources. It was a natural link for us to partner with them."
---
* Granville has recently accepted a promotion in the Office of Statewide Health Planning and Development, California's federally designated Primary Care Office