by Beth Blevins
At a rural hospital in Texas last year, a woman's life was saved when doctors, using a handheld ultrasound device, determined that her abdominal pain was due to a ruptured ectopic pregnancy and were able to act quickly to address it.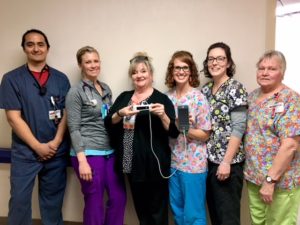 The hospital had the handheld unit on-loan as part of an innovative pilot project run jointly by the Texas State Office of Rural Health (TX SORH) and the Texas Tech University Health Sciences Center (TTUHSC). The devices, as well as accompanying training, were offered to Small Hospital Improvement Project (SHIP) hospitals in the state.
TX SORH had received approval from the Federal Office of Rural Health Policy to use $95,000 in unencumbered funds from their 2015-2016 SHIP grant for the project, according to Shari Wyatt, Rural Health Specialist at TX SORH. "We had asked ourselves: 'what can we use this funding for that will help hospitals?'" Wyatt said.  "The GE Vscan Extend handheld unit had just come out. It's an innovative piece of equipment that a lot of hospitals hadn't used or even knew about."
"I love new technology," Wyatt continued, "but if you don't get it into the hands of the rural providers and clinicians, they never know about it. Some of the big vendors don't bother with small rural hospitals—when you're rural, you're the little dog. They're not really going to pay attention to you. That's another reason I wanted to do it, so rural hospitals actually got to try out new technology to determine its usefulness in their facilities."
TX SORH contracted with TTUHSC on the two-year project to help provide training on the devices. "Our state is big so we divided it into four regions," Wyatt explained. "Texas Tech and I went to those four regions along with a sonographer from GE who did basic training on using the handheld unit." Providers who could not attend in person were invited to participate in webinar training on the device, she said.
With TX SORH funding, eight Vscan Extend devices were purchased by Texas Tech to deploy to the hospitals that had been trained, for a one-month trial period each. A total of 67 hospitals signed up.
"They could use it anyway they wanted to for four weeks—any department, any doctor, nurse, or health care professional," Wyatt said. "We only asked them to complete a brief evaluation sheet and send it back when they returned the device."
The project was completed in July 2018, and TX SORH recently received the project completion report. The report reveals that more than 90% of the hospitals found the unit to be extremely helpful, and that the device was used mostly for abdominal scans and OB concerns. In addition, users found that the device was helpful for easier IV placement, for quickly scanning a patient for vascular effusion, and for checking an accident victim for fluid in the abdomen, helping avoid more costly, time-consuming imaging studies.
TX SORH negotiated with a vendor and obtained bulk discounted pricing for those hospitals that wanted to purchase the devices after the trial period. "This gave them the ability to purchase handheld ultrasounds at a price they could afford," Wyatt said. As a result, several hospitals bought the units, with others planning to purchase the device with future SHIP funding.
"Through the negotiation we also were able to provide one year of online ultrasound training with SonoSim for all employees at the hospitals that purchased the devices," Wyatt said. "I think online training will make a difference. A lot of the doctors really liked the device, but they wanted additional training for it."
This is not just a one-time project, Wyatt added. The units purchased for the initial training project will be used in future training initiatives as well, she said.
"Many small, rural hospitals are financially hurting and don't have the means to purchase innovative equipment, or get the opportunity to try out new products," Wyatt said. "The handheld unit project gave the hospitals' providers the ability to use the technology and determine its usefulness within their facilities. I feel that these are the types of projects that truly benefit rural hospitals."
————————————————————————————
Does your SORH have a "Promising Practice"? We're interested in the innovative, effective and valuable work that SORHs are doing. Contact Ashley Muninger to set up a short email or phone interview in which you can tell your story.