NOSORH would like to thank you for your support of National Rural Health Day (NRHD) 2016! The day was a great success with nationwide events, webinars and recognition by partners and the press. It was exciting to see posts and tweets fill up social media. In fact, #PowerOfRural trended on Twitter and twenty-six legislators tweeted their support. The NOSORH Facebook page's reach increased by 77%, Facebook likes increased by 38% and Twitter followers increased by 30% from 2015. The NOSORH Website had over 5,000 page views, an increase of 320% from 2015.
NOSORH is still tracking the NRHD activities of State Offices and wants to hear more about what you did to celebrate. Please click here to document your accomplishments!
NOSORH hosted a series of national "WebSights" throughout the day with speakers from AgriSafe, National Rural Health Association, Federal Office of Rural Health Policy, Centers for Medicare & Medicaid Services, Centers for Disease Control and Prevention, Hall Render, Excelicare and Impact! Communications. The presentations can be accessed here on the NOSORH website (recordings will be available soon).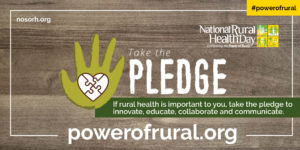 The "Pledge to Partner" was developed in partnership with Impact Communications and announced on NRHD as a way to transform NRHD into a year-long, ongoing commitment to bring collective focus to specific healthcare issues facing rural communities across the country. SORHs and other stakeholders are invited to sign the online pledge to officially join the "Power of Rural" movement.
The Pledge focuses on 4 key areas:
Innovate: Commit to developing ideas, programs and models that transform and positively impact rural healthcare delivery. Challenge partners and community leaders to explore new approaches to reach at-risk rural populations.
Educate: Initiate discussions to inform stakeholders on the issues facing rural providers. Share information about the need to improve access and outcomes in rural communities.
Collaborate: Commit to establishing new relationships that will bring additional resources to rural health care.
Communicate: Use all available channels to spread the "Power of Rural" message. Share your stories and ideas.
Visit powerofrural.org to take the Pledge today and start receiving information leading up to NRHD 2017. Click here for a short video about the Pledge.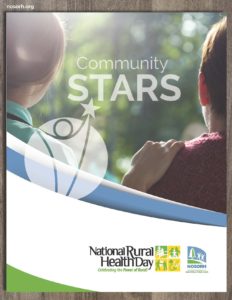 In addition to the Pledge, the Community Stars 2016 e-book was also released on NRHD! This publication honors and gives a personal voice to rural people, providers, advocates, and communities across the country. These stories document just a few examples of incredible service and dedication to the people who call rural America home. Thanks to all who submitted stories and congratulations to the individuals highlighted in the book!
As always, a big thanks goes to NOSORH's partners and sponsors who help to make NRHD a huge success every year!
---