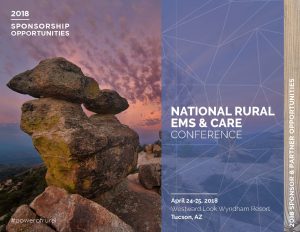 Support the work of the Joint Committee on Rural Emergency Care by sponsoring the National Rural EMS & Care Conference in Tucson, AZ, on April 24-25. The conference offers an opportunity for sponsors and exhibitors to meet with local, regional and national EMS stakeholders, and to be recognized for their support. Three levels of support are being offered for the conference:
Prime Sponsor-$5,000
Select Sponsor- $2,500
Conference Exhibitor-$1,000
Please click here for the 2018 Sponsor Prospectus to register as a sponsor and for more information regarding each level of sponsorship.
Click here to view the full conference agenda.
The conference will be held at the Westward Look Wyndham Grand Resort, 245 E. Ina Road, Tucson, AZ. To book a room, please call (800) 722-2500 and reference the "National Rural EMS & Care Conference 2018" to get the $91 + tax room rate. You may also book online by clicking here.
For more information about the conference, please visit: https://nosorh.org/calendar-events/ems/
---