Registration is now open for the 4th Annual National Rural EMS and Care Conference! You're invited to join NOSORH, the National Association of State EMS Officials (NASEMSO), the Joint Committee on Rural Emergency Care (JCREC), and the Arizona Center for Rural Health on April 24-25 in Tucson, Arizona. Network with other attendees, including rural EMS directors, medical directors and officers, rural healthcare providers, state EMS officials, state rural health officials, hospital administrators, elected officials, federal agency officials, and other EMS stakeholders.
NOSORH is offering a 4-hour EMS Grant Writing 101 Workshop!
Rural EMS agencies and other interested partners will learn how to write and submit a complete grant proposal, understand rural relevant data important to EMS and identify funding opportunities. This workshop will be held on Monday, April 23, at 1:00 pm. View the agenda here.
Sponsorship/Exhibitor Opportunities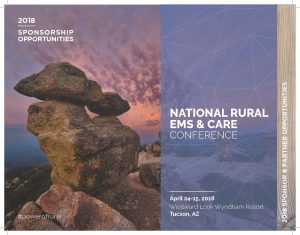 Are you interested in supporting the mission of the JCREC, NOSORH and NASEMSO at the National Rural EMS & Care Conference? Three levels of support are being offered for the conference:
Prime Sponsor-$5,000
Select Sponsor- $2,500
Conference Exhibitor-$1,000
To register as a sponsor and for more information regarding each level of sponsorship, please click here for the 2018 Sponsor Prospectus.
Click here to view the full conference agenda.
Click here to register for the Conference and the Grant Writing 101 Workshop.
Please share this registration information with all partners, providers, or other interested parties. Also, please include in any newsletters or other distributions you may have.
If you have any questions, please contact Matt Strycker at stryckerm@nosorh.org or Trevor Brown at trevorb@nosorh.org
---