NOSORH has a long tradition of high levels of SORH volunteers on the many meeting planning committees. This year, through five regional meetings and the Annual Meeting, 33 states were represented on those committees, making it a 66% participation rate for the SORHs (see map below). What makes these committees special is the fact that they are literally setting the agenda. Participating makes sure you have a voice at the table when it comes to how the meeting will go, what topics will be covered and even how long the breaks will be! Evaluations show time and again how the regional meetings and the Annual Meeting are the most beneficial meetings that SORH attend each year.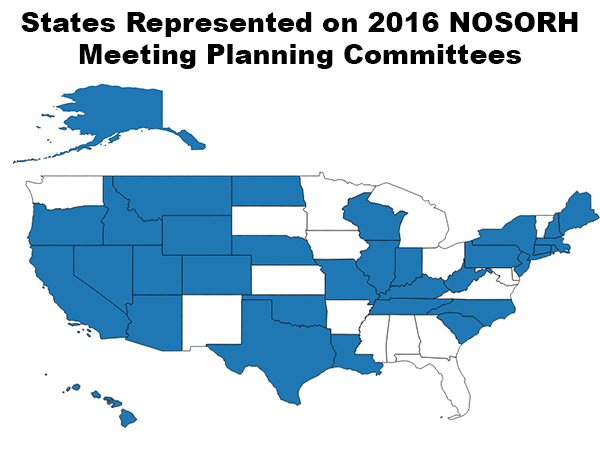 Being a part of a meeting planning committee is not only a way to make your voice heard in the setting of the agenda, but also a way to connect and learn from fellow SORHs about their successes and challenges.
Matt Strycker, NOSORH Special Projects Coordinator, facilitates the planning committees and always looks forward to starting up the meeting planning committee season. "It gets us back into what I call the Triple D: dialogue, discussions and decisions," Strycker said. "All of the committees have a flow to them. We start by looking at the evaluations from the previous year to read about what worked and what didn't. Then we will have a dialogue about what is going on in each state/region and begin brainstorming ideas. The next meeting the committee will begin discussing what will work for the SORHs in regards to making it on the agenda. After that list is made, we make the decision of which topics and speakers make the cut and go on the agenda. Sometimes this part is easy because of the speaker proposals that are sent in from our partners. This is the crux of what the committees do, and it's amazing to watch them come together."
NOSORH highly encourages anyone who is interested to join their regional meeting planning committee and the Annual Meeting planning committee. A call for volunteers will be distributed in the coming months.
"It is a rewarding feeling to know that you had a voice in making these meetings the successes they are. Sites and dates are being set for next year's meetings. We hope you all join to get us up to 100% SORH participation," said Strycker.
---