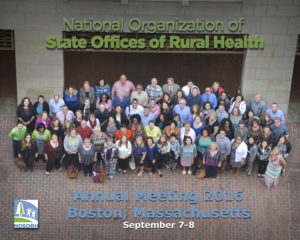 The NOSORH Annual Meeting was held in historic Boston, Massachusetts, on September 7-8. Attendees enjoyed an incredible agenda of speakers, breakout sessions and time to network with colleagues. As one attendee noted, "I learn a lot from my colleagues and the speakers. I find much of that learning takes place in the hallways, lunch and other breaks as I meet new people with new information that is important to our SORH."
Participants indicated a 20% increase in content knowledge after attending and 90% of attendees reported that the breakout sessions were effective. "This meeting is so rich and full of content, sharing and expertise in a relaxed and open environment. It is always great to learn from national experts, hear from our SORH colleagues around the country and talk about the important issues facing the work we do every day. No man or woman is an Island in the work we do with this conference and NOSORH. Great job to all the staff as always," said another participant.
This year was the first time featuring Ignite sessions and they were very well received. Thank you to Kirby Lecy (MA), Corie Kaiser (OK) and Lisa Davis (PA) for presenting!
As always, thanks to the following sponsors and exhibitors for your support of NOSORH: Gold Level Sponsor: Association for Rural Health Professional Coding Silver Level Sponsor: Hall Render, iVantage Health Analytics, Stroudwater Associates Bronze Level Sponsor: The Compliance Team, DentaQuest General Exhibitors: Azalea Health, Synapse Healthcare Solutions, Wipfli Non-profit Exhibitors: 3RNet, Foundation for Health Leadership and Innovation, National Rural Health Resource Center, RHIhub, National Center for Rural Health Works, Stratis Health
Stay tuned for the date and location of the 2017 Annual Meeting.
---