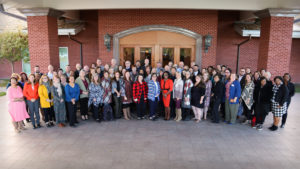 NOSORH and its members would like to thank the Wyoming State Office of Rural Health for hosting the 2018 Annual Meeting this past month in Cheyenne. To the volunteers, planning committee members, facilitators and scribes for the roundtable sessions, and to the NOSORH members who presented in the breakout sessions, thank you! Teryl Eisinger, NOSORH executive director, opened the meeting by demonstrating the importance of volunteerism and how it is key to the work of NOSORH, a message that resonated throughout the meeting.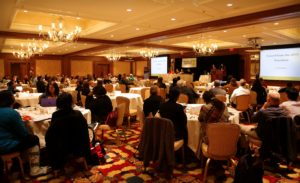 Member feedback is always of great value to evaluate the success of the Annual Meeting. It guides the planning committee in the future as well as helps the NOSORH staff ensure they deliver a high quality and meaningful conference each year. The evaluations show that 91% of respondents rated the meeting as excellent. One member stated, "I really gained some great information from the main sessions and breakouts. There were excellent opportunities for networking and making friends, too!" Another said, "I needed the session on making the most of National Rural Health Day because I really needed to know what our office should be doing and how to get things done. This helped me tremendously."
The lineup of sessions and networking opportunities was excellent, with more sessions offered than ever. "We appreciate the extra effort everyone made to get to Cheyenne," said Eisinger. "I learn so much from listening to all of our partners and members at this meeting. The planning committee and Matt Strycker did a great job."
As always, a big thank you to the sponsors and exhibitors for your support of the work of NOSORH and State Offices of Rural Health across the country. Special thanks to NOSORH Platinum Sponsor, Stroudwater and Associates, and Gold Sponsors, Hall Render and The Compliance Team!
Stroudwater provides outstanding operational consulting services to our rural health partners and stakeholders.
Hall Render advocates tirelessly on the behalf of NOSORH, SORH and the rural work we do every day
The Compliance Team provides outstanding services to rural health providers on regulatory compliance and have recently been awarded recognition as PCMH surveyors with a focus on rural providers!
The 2019 Annual Meeting will be held in Albuquerque, New Mexico! All of the presentations have been uploaded to the NOSORH website here.
---