Fifty-five counties in rural Missouri are now without a hospital. Death rates are higher for rural Missourians than urban in each of the top ten causes of death. These and other statistics are included in a new report that looks at the health status of rural Missourians.
Health in Rural Missouri: (Biennial Report 2018-2019) looks at demographic characteristics and other factors, as it has in prior reports. But this year the entire report was done through the lens of social determinants of health (SDOH), according to Kathryn Metzger, Programs Manager at the Missouri State Office of Rural Health (MO SORH), which issued the report.
"In prior years it was mostly done by the numbers—people pulled the numbers and interpreted them," Metzger said. "This time, we wanted to identify those things most impacted by SDOH, and use that in discussing everything going forward." The 2018-2019 report focuses on five of the most important SDOH impacting rural health: economic stability, neighborhoods and built environment, health and healthcare, social and community context, and education.
For example, Metzger said, in the section that discusses education, "We put education levels alongside diabetes rates so you can see that as educational attainment decreased, the diabetes rates increased," she said. "That's really important when you're looking at programming—you start getting into health literacy issues. You want to make sure that people understand the medical advice they are getting, especially with diabetes, which is complex and difficult for everyone to understand."
Another big change with this year's report, beyond content, Metzger said, "and one that was important to best serve Missouri's communities, was to make it easier to read." In previous years' reports, she said, "it was a very technical document, written in an academic style, that would have required a pretty high level of health literacy and an understanding of statistics."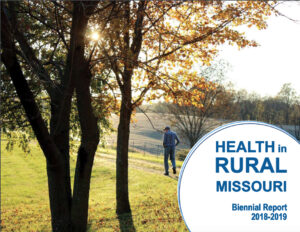 "We want to try to expand the audience," she continued. "The goal was to use plain language so that the information will be accessible to anyone on the ground doing the work in the community. We also wanted to make sure that when we couldn't use words that were plain language, we would include a glossary that links to them." Terms that appear in the glossary are italicized in the report.
Another more visual change is that the new report features award-winning photos from the Missouri Department of Agriculture's Focus on Missouri Agriculture Photo Contest. "We used photos of people in Missouri taken by people in Missouri," Metzger said. Rural scenes, including a large photo of a smiling Missouri farmer on the Table of Contents, are used throughout its pages.
Although MO SORH is required by statute to issue the report every two years, Metzger said, "this is much more than we are required to do—it could be done in a five-page overview. But it gives us an opportunity to speak to our lawmakers about our needs and also to share information with our community. I think it keeps Missouri's finger on the pulse of what is actually happening across the state." This year's report is 88 pages.
The report being issued biennially also points out significant changes in health status, Metzger said. "If you have a county that has had a really low rate of something but then, all of a sudden, in a two-year time span, you see it go to a high rate, it draws your focus," she said.
Metzger said that in recent years the reports have been longer also because their data capacity as a state has changed. "We have a lot more access and we're using state-specific data sources," she said. The current report draws on MOPHIMS (Missouri Public Health Information Management System) and the Missouri County-Level Study, she said.
The report was partially funded through SORH funds, Metzger said, with the rest of the funding coming from other state budget sources.
In the coming weeks, Metzger said she hopes to pull together factsheets from the report as well as present webinars that will discuss how to use and interpret the data."It's my hope that this year's report will be easy to understand by everyone at the grassroots level interested in furthering the health of their community—whether it's a hospital, a non-profit, or a walking club," Metzger concluded. "I hope that it is used for writing grants, for developing programming, and maybe identifying some opportunities to make an impact in ways people hadn't previously thought."