National Rural Health Day continues to be successful because of support from our members and partners. NOSORH is proud of the reach and impact this program has year after year as we work to bring new programs, ideas, events, and opportunities to celebrate the #PowerofRural – 2019 was no exception!
Below you'll find a new fact sheet that highlights the impact of National Rural Health Day 2019 at the local, state and national level. Check it out!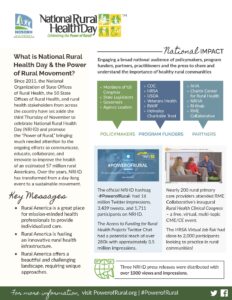 National Rural Health Day Impact Fact Sheet
Mark your calendar for Thursday, November 20, and stay tuned for the roll out of resources for the 2020 National Rural Health Day and Power of Rural campaign!
Thank you for all you do to transform this moment into a movement!