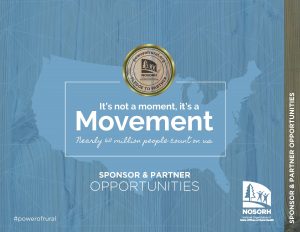 You're invited to partner with NOSORH to help build the capacity of State Offices of Rural Health (SORH) and be an integral part of National Rural Health Day! Explore a sponsorship level that meets your needs and showcase your organization at the NOSORH Annual Meeting in Cheyenne, Wyoming, on October 17-18, 2018. The Annual Meeting brings together over 150 attendees, including representation from all 50 SORH staff, and partners from across the country who are dedicated to improving access to quality rural health care. Read more.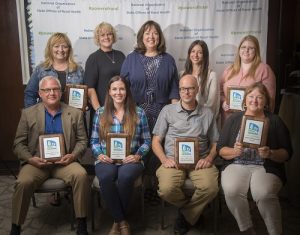 The Awards Committee co-chairs Cathleen McElligott (MA) and Margaret Brockman (NE), are now accepting nominations for the 2018 NOSORH Awards. These awards are a special way to celebrate and recognize the hard work and leadership of individuals and organizations dedicated to rural health. Awards will be presented during a ceremony at the NOSORH Annual Meeting.
Click here to submit a nomination! (Nominations will be accepted until Friday, August 31, 2018 at 5:00 EDT.)
Award Descriptions
AWARDS REQUIRING NOSORH MEMBERSHIP
NOSORH SORH Award of Excellence
This award is to be presented to a State Office of Rural Health that has made an outstanding contribution in the field of rural health. The committee should consider broad benefits to rural health, innovative programs, unusual contributions, or activities that have advanced State Offices of Rural Health. Read more.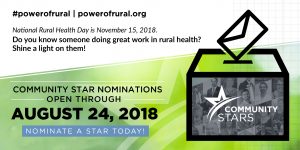 Shine a spotlight on someone making a difference in rural health and help us celebrate the #PowerofRural by nominating an outstanding Community Star!
We are now accepting nominations for the 2018 Community Stars through August 24, 2018. Visit the Community Stars page for more information and to make your nomination.
Selected Community Stars will be announced at the NOSORH Annual Meeting and featured in the 2018 Community Star electronic publication released on National Rural Health Day, November 15, 2018! Read more.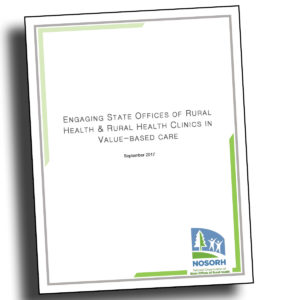 The RHC Committee needs your input on the annual RHC Technical Assistance Survey! It should only take 10 minutes or so to complete and the information gathered will help shape the work of the RHC Committee over the coming year. Click here to access the RHC Technical Assistance Survey 2018. The committee appreciates your willingness to participate in this important annual event!
The Rural Health Clinic (RHC) Committee reminds you there are great resources for Quality and Behavioral Health for RHC.  "Performance Measurement and Quality Improvement" (Module 5) and "Incorporating Behavioral Health in the RHC" (Module 6) have been recently updated with format, and other minor changes.  Module 6 includes an new appendix of opioid resources.  The revised versions will be available by August 1, 2018.  These and other, related modules can be found on NOSORH website's Rural Health Clinic Educational Resources page. Read more.
The next TruServe training will take place on July 25th at 2pm ET. If you'd like to participate, please dial in using the information below:
Webinar link: https://undmed.webex.com/join/mark.barclay
Dial into: 1-415-655-0002, passcode 921 776 408#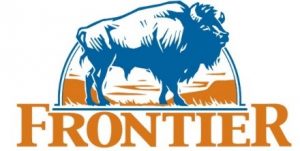 NOSORH wants to learn more about challenges and opportunities in frontier communities, and the efforts that State Offices of Rural Health are making on their behalf.  We are conducting a listening session with State Offices of Rural Health on Wednesday, July 11, 2018 at 3 PM ET. Read more about the session.
To join the meeting, use the following WebEx link and dial-in information:
https://nosorh.webex.com/nosorh/onstage/g.php?MTID=e04647353eb4914c901b35312c761e988
Call-in toll number (US/Canada): (650) 479-3208
Access code: 666 214 487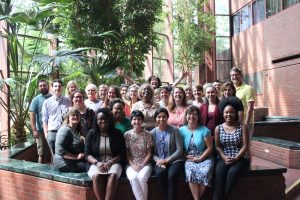 SORH staff from all 13 states of Region A descended on Charlottesville, Virginia, for the Region A SORH Partnership Meeting in June. NOSORH would like to thank the Virginia staff for all their help in planning and hosting an amazing meeting, and also for the gift bags that helped us to remember that "Virginia is for Lovers!" That message set the tone for what was a well-balanced agenda of peer-to-peer networking and learning, as well as information that many took back to their states to follow up on. Region A was joined by Alana Knudson, Co-Director of the NORC Walsh Center for Rural Health Analysis. Alana presented on the CDC's growing interest in rural health. Alana touched on a variety of topics within that conversation, including the inclusion of rural health coordination within the Office of the Associate Director of Policy, rural health disparities, and how local health departments are funding in rural areas. Read more.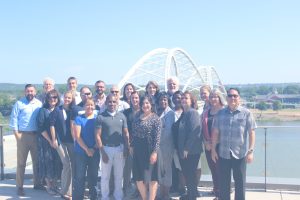 The SORHs of Region D met last month in Little Rock, Arkansas, for their regional meeting. Thank you to the Arkansas Office of Rural Health for hosting and helping plan a meeting that touched on a broad array of topics, which made for lively discussions. Each state was encouraged to think "outside the box" in terms of working with new partners and delving into new topics not previously discussed at the regional meetings. One session of note was Marc Verhougstraete's presentation on Environmental Health and Justice. Marc, an Assistant Professor at the University of Arizona, gave a presentation that had attendees ponder the well being of rural citizens, and farming's impact on rural water sources. Read more.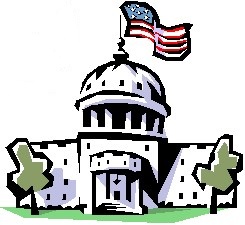 The following update was provided for our members by Hall Render, NOSORH Legislative Liaison:
House Releases Draft FY 2019 HHS Funding
On June 25, the House Labor-Health and Human Services-Education (Labor-HHS) Appropriations Subcommittee released the draft bill text for the FY 2019 HHS funding. The draft bill increases the State Offices of Rural Health funding to $11 million, a million dollar increase over FY 2018.
That is particularly good news considering the draft bill decreases overall rural health funding by $9.5 million for the upcoming year.  The bill would also decrease the Health Resources and Services Administration (HRSA) funding by $196 million from FY18.   Other funding under the HRSA account includes $33 million for Rural Hospital Flexibility Grants and over $25 million for Small Hospital Improvement Grants. Read more.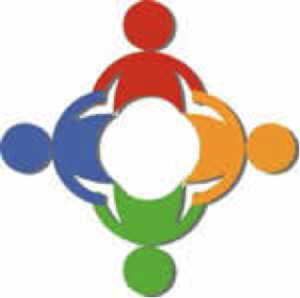 NOSORH committees are great focal points for engaging in many NOSORH initiatives.  Descriptions of all committees and contact information can be found on the NOSORH website.
Development- With the recent release of the Sponsor Prospectus, the Development Committee is "leaning in" to work on sponsor development. All information related to potential sponsors is welcome and should be directed to Teryl Eisinger (teryle@nosorh.org). The Committee is beginning to explore potential NOSORH service line expansion through enhanced partnerships with a few long-term strategic partners. More information will be forthcoming as this work takes shape. For additional Development Committee information, please contact Tammy Norville (tammyn@nosorh.org). Read more.

The RHIhub has a new topic guide on the Rural Response to the Opioid Crisis. The guide identifies rural-specific initiatives and funding opportunities, program examples, and tools and resources focused on prevention, harm reduction, and treatment, to help address this crisis in your rural communities. Read more.
We've also updated other Topic Guides: