National Rural Health Day (NRHD) is just around the corner and we need your help to spread the "Power of Rural" message! There are many ways to get involved on November 17 and beyond.
NOSORH would like to track the celebration activities of State Offices and publicize your efforts! Are you holding a photo contest? Hosting an event? Click here to let us know your plans! Now is a good time to reach out to public information officers, your SORH leadership and others in your state to share plans for National Rural Health Day.
Not sure what to do yet? The NRHD website is full of resources and ideas to get you started. An easy way to participate is to share the NRHD press release with your contacts, create your own story with a press release template and post on social media (#powerofrural). NOSORH will be posting frequently on social media, so don't forget to "Like" the NOSORH Facebook page and follow NOSORH on Twitter to join the national conversation!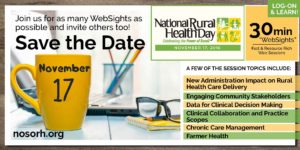 NOSORH will be hosting a series of national "WebSights" throughout the day on NRHD. WebSights are 30-minute, resource-rich web sessions on rural-relevant topics (see graphic below), including speakers from AgriSafe, NRHA, FORHP, ASTHO, Hall Render, and Impact! Communications. An email with registration links will be distributed soon.
Stay tuned for the release of the "Partner to Pledge" on National Rural Health Day, where SORHs and other stakeholders will be invited to sign an online pledge to officially join the "Power of Rural" movement.
As always, a big thanks goes to NOSORH's partners and sponsors who help to make NRHD a huge success every year! Please contact Ashley Muninger if you have any questions or for more information on how to celebrate.
---