Hurricane Harvey will have lasting and devastating impacts across Texas, with the possibility of Mississippi and Louisiana seeing those impacts as well. At of the writing of this newsletter, Trent Engledow, Director of the Texas Office of Rural Health, was working the phone to be personally in touch with every rural health facility in the "declared" state-of-emergency counties. Engledow reports that there are efforts underway allowing recipients of capital improvement funds to leverage them in a way that addresses the impact of the unprecedented storm.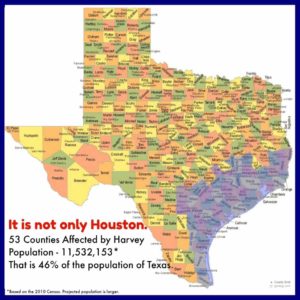 One member of the Texas SORH has experienced flooding in their home. Lorena Payne, Rural Health Specialist, reported that it "is amazing to see people responding to the crisis" with shopping baskets full of donated items for the thousands of storm victims. The Texas Organization of Rural and Community Hospitals (TORCH) Facebook feed shows a map (left) with over 50 counties, holding a population of over 11 million people, being impacted by Harvey.
Nearby in Louisiana, Traci Ingraham, Rural Health Officer and SORH Director for the Louisiana Office of Rural Health, reports that their office is part of the frontline response but have not yet been activated into emergency preparedness activities. There have been some temporary closures of rural health clinics in preparation for the storm and one small hospital may have temporarily closed its doors. Ingraham reports the office is "reaching out individually to these facilities because they know us." Hospitals and clinics are being encouraged to follow their emergency response plans and to keep the SORH informed of their needs.
---