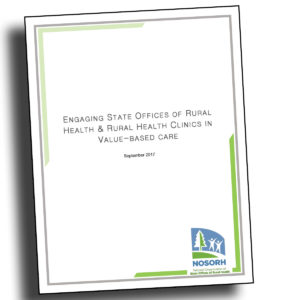 The NOSORH Rural Health Clinic (RHC) Committee has released the latest module in a series designed to assist State Offices of Rural Health with providing technical assistance for Rural Health Clinics (RHCs). Engaging State Offices of Rural Health and Rural Health Clinics in Value-Based Care aims to define what delivery system reform means, focuses on payment reform, and includes care coordination and strategic collaboration initiatives for RHCs.
RHCs across the United States are faced with the growing need to adapt to new initiatives, payment structures, and value-based systems in order to make the move from volume to value. The main challenges RHCs face are the potential administrative burdens, financial risk, and few opportunities for reimbursement. This module will guide SORHs on their role in this effort to assist RHCs as they adopt new policies and procedures to implement value-based care initiatives. The module includes information on Medicaid initiatives, primary care models and the future of delivery system reform, plus SORH examples across the nation.
Join the webinar Engaging RHCs in Value-Based Care on Tuesday, October 31 at 3:00 pm EASTERN to learn more about the toolkit, the latest trends on the federal level for value-based care initiatives for RHCs and a SORH example of engaging RHCs. For more information on the webinar, view the flyer here.
Click here to register.
All modules in this series can be found here.
---