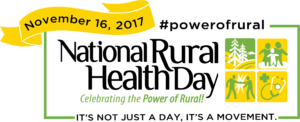 Looking for ways to celebrate National Rural Health Day this year?  Here's a brief glimpse at what some other folks are planning on or around November 16 – and a few additional ideas we came up with ourselves!
 

General Ideas:
Answer your phone on November 16, 2017 by saying "Hello … Happy National Rural Health Day"
Visit one of those morning news shows and hold up a sign that says "Happy National Rural Health Day!"
Wear a National Rural Health Day T-shirt to school or work
Plan a group run or some other kind of fitness activity
Do something "healthy" that day – eat more vegetables, bike instead of drive to work, get your blood pressure or cholesterol checked, etc.
Write a letter to the editor or contact a local legislator to stress the importance of addressing the health needs of rural communities
Thank a rural health provider for all they do!
State Offices of Rural Health and Partners:
Obtain gubernatorial/legislative proclamation recognizing National Rural Health Day
Present rural health awards/honor rural (or community) heroes
Host conference "Celebrating the Power of Rural" on National Rural Health Day
Present a series of themed lectures/presentations by state rural health leaders or advocates via Webinar on National Rural Health Day
Produce rural health-related videos, fact sheets and other educational materials
Visit community/state leaders to educate them on rural health issues and tout the work of State Offices of Rural Health and others in addressing those needs
Contact local/state media; arrange National Rural Health Day interviews
Link to National Rural Health Day website from your website
Schools:
Plan a field trip to a local hospital or rural health provider
Invite rural health providers to speak in the classroom
Host and/or encourage students to participate in a rural health-related community service project (plan a health information fair, helping paint a rural health clinic, etc.)
Have rural-themed poster essay contests
Host a National Rural Health Day "Fun Day" to promote health and wellness – kids participate in fun physical activities, sample healthy foods and receive health information
Host "Health Careers Day" in career development centers/guidance offices
Teach special rural-themed courses on National Rural Health Day (rural history, rural economics, etc.)
Hospitals/Rural Health Providers:
Plan/host a community health fair
Give tours of your facilities
Share your story – speak at a local school or community event
Display National Rural Health Day banners/posters
Have a "staff appreciation" luncheon
Link to National Rural Health Day website from your website
________________________________________________________________________________