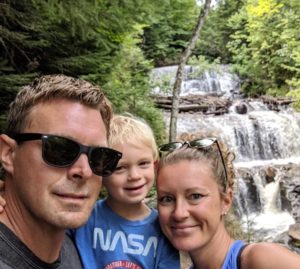 Crystal Barter
Michigan Center for Rural Health
Director of Performance Improvement
NOSORH Member Since 2009
Favorite thing about working at a SORH: The SORH "family". NOSORH does an excellent job in building a community among the SORHs. I feel very grateful to have developed deep professional and personal relationships with many SORH personnel across the nation over the last ten years.
What I'm working on right now: Launching the Rural Communities Opioid Response Program – Implementation funding. MCRH facilitated forming the Northern MI Opioid Response Consortium, covering 16 rural counties, under the RCORP-Planning funding and are now able to move the work forward with the implementation funding!
Best advice I ever received: "Good for her! Not for me." Very helpful as a fairly new mom navigating everything you are "supposed" to be doing.
"Be part of the solution. Don't sit around being negative and pointing out obstacles."
"Surround yourself with good people."
Oh, and "Enjoy the WOW that is happening now." That last one is from my three year old's favorite show, Daniel Tiger.
What I'm currently reading: I just finished "Love Thy Neighbor" and "In Shock" – Both excellent books focused on aspects of healthcare. I am excited to dive into "Save Me the Plums" which is Ruth Reichl's (former food magazine editor) memoir.
3 great things about rural health in Michigan: 1) The MICAH QN. This impressive group of quality leaders take pride in improving not only their organization, but work together to lift all CAHs in Michigan. 2) The collaborative nature among organizations and stakeholders focused on improving the health of rural MI residents and teams. 3) My colleagues. The MCRH team is strong in their commitment to assisting rural communities on everything rural health. I'm so proud to work with each and every one of them.
Last place I traveled to: The beautiful Upper Peninsula of Michigan. If you haven't been, it is worth a trip. I was reminded how accessible it was to see truly beautiful scenery, and how much of it there is in Michigan!
Who inspires you? At this phase in life, I'm really inspired by strong women who are making it work (whatever that means for them). This includes the likes of women like RBG, but also the women in my life who are navigating their own journeys and figuring out what happiness means for them. There are quite a few NOSORH women on that list!