Last month, representatives from 12 primary care offices (PCOs) attended the PCO Training Academy and Mentoring Kickoff meeting. The meeting, planned by NOSORH and the Association of State and Territorial Health Officials (ASTHO), was held at the ASTHO offices in Crystal City, VA.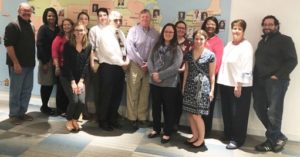 The training academy brings together six selected mentors and six mentees as they undertake a formal mentoring experience. The kickoff meeting is the initial step in the mentoring experience where mentees are provided an orientation to the role of a PCO from the Health Resources and Services Administration's (HRSA) Bureau of Health Workforce. In addition, mentees learn about the PCO National Committee, traditional primary care access points, the evolution of primary care, and engage in a number of peer-led discussions leveraging the expertise of the mentors.
This year's mentees come from the states of AR, DE, GA, ID, MS and VT. Experienced PCO staff from the states of CO, NE, NH, NY, TN and VA have been gracious with assisting their peers through mentoring. The PCO mentoring program is supported by NOSORH as a subcontract under ASTHO's NOSLO Cooperative Agreement with HRSA. In addition to supporting the mentoring program, NOSORH also provides logistical support to the PCO National Committee and assists with the development of ASTHO resources for primary care and rural health issues.
---